So, here we are… snowed in again from the second blizzard of this holiday season. I really do appreciate the snow – it makes most everything in my back yard look bright and clean. (In my front yard, its a different story. There you can see all the dirty snow from traffic, and shovelling up undesirable messes that the snow had previously buried.) This current storm was supposed to bring 1-2 more feet, but so far we've only had 8″ or so. The second wave is supposed to hit tonight. Govenor Owens is doing a press conference now to declare our state a disaster/emergency or something of the sort. He's asking all Coloradoans to stay off the roads, if possible. I'm more than happy to do that, considering the snow piles outside my house are already taller than my car.
I'll post photos from both the first storm and this one a little later – when I find my digital camera. (Don't worry, its not out in the snow. I just dont remember where in the house it is.)
Since I don't have those… here is one of the more creepy photos I've seen today. Really… we all know that Saddam has been condemned for his crimes, but do we need to make sand sculptures depicting his head?
Caption: Indian sand artist Sudarshan Pattnaik gives finishing touches to a sand sculpture titled Fate Of Saddam at the Puri beach Bhubaneswar in the Indian state of Orissa, on Wednesday, Dec. 27, 2006. (Biswaranjan Rout/AP Photo)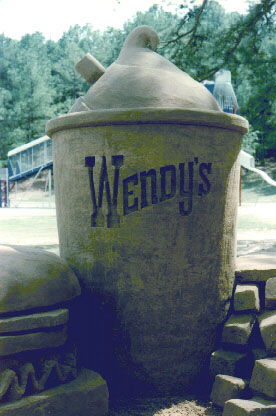 I prefer other, happier sand sculptures. Like this one, of a Wendy's Frosty. Mmm, tasty. And made out of only 15 tons of sand! Now I know what to do with all that snow in my backyard.